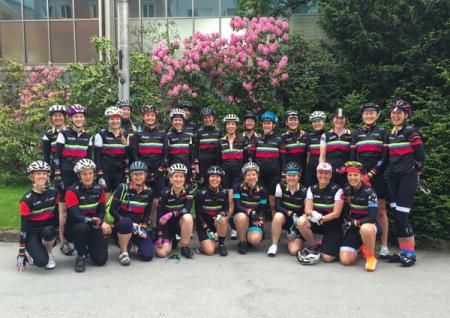 The ladies all arrived in Venice on Wednesday, having completed a challenging 436km from Salzburg. The ride included the biggest climb in Club Peloton history, involving Mountain Patrol having to close the pass due to treacherous weather conditions. All riders arrived happy into Venice, having exhibited some of the strongest riding seen on a pedElle event. The Ride Captains were all extremely pleased with how it went and over the final celebratory dinner the cyclists heard from Coram about how the money raised would truly change vulnerable children's lives for the better.
Our Corporate Account Executive, Amy Story, said:
'I'd like to say a huge thank you to all the PedElle ladies for rising to this challenge, not only on their bikes but also in terms of fundraising. Having raised over £17,000 and counting, quite literally with every mile they rode, every climb they tackled and every stage they completed, they've enabled Coram to do more to help some of the UK's most vulnerable children.'
Organised by children's charity Coram's partner, Club Peloton, PedElle is an annual cycling event encouraging more women in the property industry to get into cycling. It was sponsored for the first time this year by Legal & General Real Assets. PedElle was founded in 2013 by Jennifer Ross and Claire Treanor, and offers women cyclists an exciting challenge, with a different European route each year.