The main tower of the theatre will be glowing in support of this year's #TooOldAt4? campaign, spearheaded by adoption advisory service First4Adoption and supported by Coram children's charity. Coram is delighted to have access to the iconic National Theatre building, which will significantly increase visibility for the campaign in central London.
National Adoption Week, which runs from October 19th-25th, aims to raise awareness about adoption services and the emotional richness of adoptive family life. This year's #TooOldAt4? campaign will highlight the benefits of adopting a slightly older child, and hopes to lower the average wait for four-and overs when seeking an adoptive family.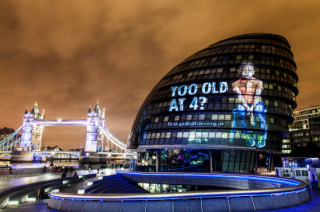 The 2015 campaign has a strong visual presence, as celebrity photographer Mary McCartney has created a special 'Too Old At 4?' image which is being projected onto landmarks and at events throughout the UK this week. The image was launched on Saturday, with a spectacular projection onto City Hall, as well as a projection onto Bristol University. Other locations have included Newcastle Civic Centre and Leicester Cathedral.
The lighting up of the National Theatre will mark the culmination of the week's campaigning to promote adoption across the UK.
Kate Summerside, Group Head of Communications at Coram said:
"We're delighted that the National Theatre has chosen to support National Adoption Week by taking part in this year's campaign. It's fantastic to have the support of such a significant cultural venue to help draw attention to National Adoption Week and bring the message to a wider audience."
Useful links