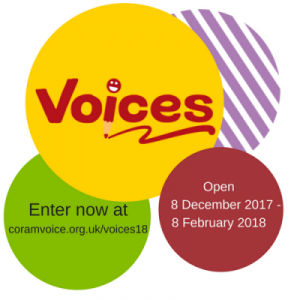 The competition, which opened on 8 December 2017, will close to entries on 8 February 2018. If you'd like to enter and are looking for inspiration, view our videos showcasing last year's shortlisted and winning entries. They include Peter Capaldi reading last year's winner in the Primary School category, 'My First Match' by J aged 9.
The entries for Voices 2018 will be judged by a panel of leading writers, journalists and authors, each with personal experience of, or a special interest in the care system. The winner of each category will receive a tablet* and £100 shopping vouchers, and will be announced by the judges at an awards ceremony in London on 9 April 2018.
The theme this year is 'Who or What Makes You Proud' and entries can be submitted online here in any written form including poems, short stories, raps and newspaper articles with a 500 word limit. The competition is grouped in four age categories: primary school, lower secondary school (age 11-14), upper secondary school (age 15-18) and care leavers.
Research conducted with previous Voices shortlisted entrants found that participation in the competition had inspired them to write more, allowed them to be recognised for their talents and for some, even helped them to come to terms with being in care.**
For more information about the competition and how to enter, please visit our Voices page.
Useful links
*The winner of each category will receive a tablet, kindly donated by Pearson Publishing, an educational publisher and software developer based in Cambridge (separate from and unrelated to Pearson Education and Pearson PLC)
**Qualitative semi-structured telephone interviews were conducted with eleven children and young people who were shortlisted in the Voices 2016 or Voices 2017 competitions to understand their experiences of the competition and how it may have impacted on their lives.