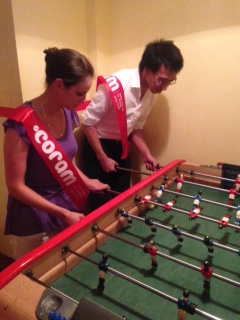 128 employees from the financial sector competed for the prestigious title of Architas City Champion, with some teams getting into the full spirit of things dressing as red bulls and Greek gods in an attempt to intimidate their rivals. Some of the more serious teams even went as far as having a table football 'coach' on hand to talk tactics!
Alice Lamb, Senior Corporate Partnerships Manager, said: "What a night! I have never seen a whole room full of professionals having so much fun playing table football! I had the opportunity to be part of the great atmosphere that Architas fundraisers always provide, and Coram is so grateful for all their hard work in putting this tournament together.
"We have been chosen as Architas' Charity of the Year for two years running, and I want to say a huge thank you for all of their dedication and support in helping raise vital funds for our services with vulnerable children and young people."
This Architas charity night was held at Café Kick in Shoreditch and is one of many fundraising events that Architas has organised throughout the past 18 months.
Useful links
Discover more about our corporate partnerships

Learn how Architas has helped Coram