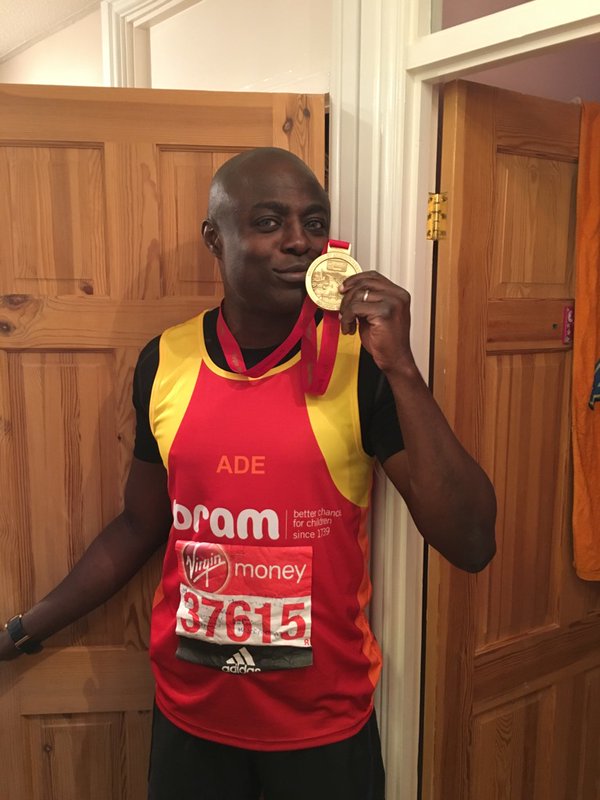 It has been another fantastic year at the London Marathon for Team Coram, with 30 runners pounding the pavements in support of our work with vulnerable children
Ade Onagoruwa, pictured right with his medal, finished just inside 5 hours with a time of 04:59:54. Ade said: 'I'm actually feeling good and am fairly mobile today!
I was tired and in some pain, but felt so incredibly proud – it was worth it!'
Many of our runners have a personal connection to Coram.
Adoptive parent Steve ran his first London Marathon for Coram. Training has been a test of Steve's endurance, he says 'When I started running I couldn't manage a ½ mile, but in less than a year I've come a long way, lost 2½ stone, gone from 42" waist jeans to a recently bought 34" waist pair, got through two pairs of running shoes, two half marathons, diagnosed as being diabetic, finding running is nearly enjoyable.'
Sue first came across Coram when she met a friend of her son who had benefitted from our advocacy service, Coram Voice, which supports young people in care.
Sue said 'The training Coram Voice offers is brilliant but the thing that really struck me is how much more they would be able to do if more funding was available. Seeing how much the children who are supported by Coram and Coram Voice benefit from these services has inspired me to do more. That's why I signed up for the London Marathon.'
Tom C, pictured below right with his family, finished in 5 hours 17 and has already raised an impressive £2,700.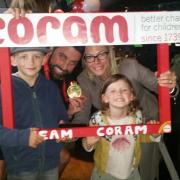 Nicola and her partner held a successful gig as part of their marathon fundraising. Nicola said 'We are running for Coram as we were told about the charity via friends and we really wanted to run for something we were passionate about.'
Celebrity hairdresser Andrew Barton also ran as part of Team Coram and finished in an impressive 4 hours 37 minutes. Andrew was adopted as a child, and adoption remains an important issue for him.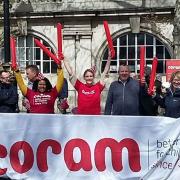 Andrew said 'Without the love and support of my family I may never have become the happy, successful, loving man I am today. There are so many children out there who are waiting to be adopted, and helping to raise awareness of adoption is so close to my heart.'
Congratulations Team Coram 2016 – helping Coram reach even more children who need our help into 2016 and beyond.
Useful links
Run 5k,10k or a Half Marathon for Coram
Take part in a challenge event for Coram