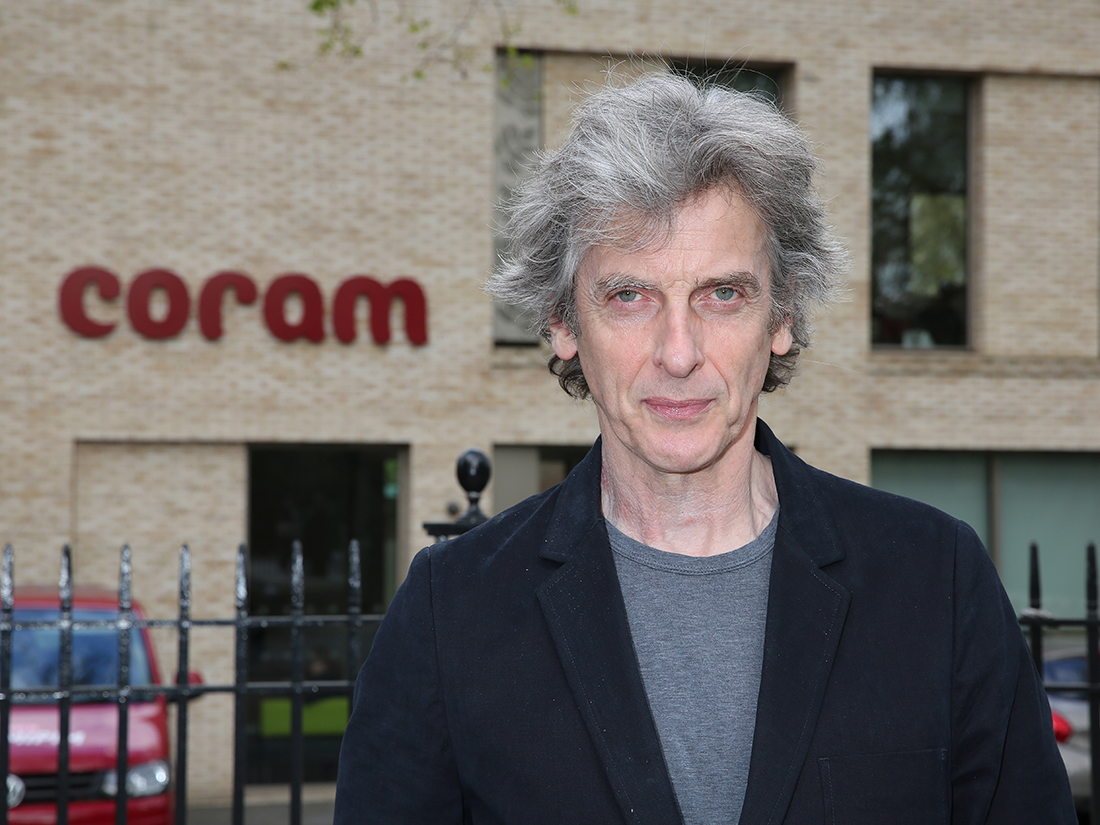 Coram Voice first held the competition in 2016 as a platform for children in care and young care leavers to share and celebrate their creative talents.
The theme of this year's competition was 'New Beginnings' and the panel of judges praised the young writers on the powerful and creative ways they expressed the changes and opportunities they've experienced in their lives.
Peter Capaldi said: "It was an honour to host the Voices 2017 awards ceremony. Every young person who entered the competition expressed in words their thoughts, memories and emotions, and their moving entries gave powerful insights into their lives and experiences of the care system. Their creativity, talent and resilience shine through."
The Voices 2017 winners are:
Primary School Winner – My First Match by J, 9
Authors Jenny Molloy and Keren David, judges of the Primary School category said: "We liked the way the writer conveyed feelings of empowerment and optimism through the very active description of a football match, and the clever way they drew parallels between different ways of being a supporter."
Secondary School Winner – The Gentle Breeze by J, 17
Judges Alex Wheatle, winner of the 2016 Guardian Children's Fiction Prize, and Luke Stevenson, Children's Social Care Journalist for Community Care said this piece was an "extraordinary powerful first-person account" which "took the simplest approach of the entries we read, but still stood out as being very maturely written in a way that put us in the writer's shoes."
Care Leavers Winner – I Know What It's Like to Be a Butterfly by N, 24
Judges Jackie Long, Social Affairs Editor for Channel 4 News and Paolo Hewitt, journalist and author of 'The Looked After Kid', said: "This incredibly strong and sophisticated piece of writing illustrated very clearly the strength it can sometimes take just to get through life – particularly a life which has thrown up so many challenges. It perfectly reflected how complicated life is and how the butterfly is a beautiful symbol of fragility, but also of resilience."
Special Award for Migrant Child in Care or Care Leaver – When a Door Closes, a Better Door Opens by J, 18
Nikesh Shukla, writer and editor of The Good Immigrant and Siti Aisah Haryani, a member of Coram's new Young Citizens Programme for migrant young people judged this year's special award and said: "This was an excellent piece of storytelling moving through the challenges of a traumatic childhood, struggling to build a different, better life. Part poetry, part prose, you could really hear the writer's voice coming through."
The winning entries are available to read here.
Linda Briheim-Crookall, Senior Policy and External Practice Development Manager at Coram Voice said: "We are delighted with the fantastic response we've had to this year's competition and want to thank everyone who entered. We had even more entries than last year and the quality made it really hard to choose a shortlist. All deserved to be showcased and we hope to be able to share more stories throughout the year. We're already looking forward to Voices 2018!"
Shortlisted entries from Voices 2017 and Voices 2016 will be showcased in a new app. Coram Voice has teamed up with educational publisher Pearson Publishing to launch Creative Voices, a free app featuring an anthology of writing by children in care. As well as Voices entries, the app will include shortlisted entries from Pearson Publishing's 'CreativeMe' writing competition, which ran in partnership with virtual schools for looked after children.
The app will be available for smartphones and tablets on Google Play and the App Store. Please visit pearson.co.uk/creative-voices.
Please click here to find out more about Voices 2017 and to read the shortlisted entries.