The event focused on the works of famous composer Handel, who was one of the earliest supporters of Coram, whilst also celebrating our 275th anniversary.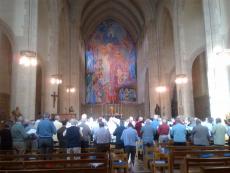 The event was led by Coram Life Governor Philippa Dodds John and allowed both choirs and individuals to enjoy a day of singing with the acclaimed conductor, with the proceeds supporting Coram's work with vulnerable children.
One attendee, Roy Franklin, commented "I enjoyed your event immensely and congratulate you on the high standard of singing achieved, I am sure you will be requested to repeat the exercise."
Music and philanthropy has runs in Coram's veins since the 1700s when Handel himself held 'Live Aid' style concerts for its benefit.
Senior Event Manager Rachel Lee said: "It is wonderful that these singers have followed Handel's example and come together in the spirit of generosity and for the love of his music.
"Choral groups up and down the country have donated the funds raised from performances of The Messiah and The Foundling Hospital Anthem, composed by Handel especially for us, to help us continue our work.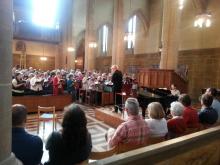 "We hope this event will encourage more choirs to do so, perhaps even selecting us as their Charity of the Year in our 275th anniversary year."
Our rich musical heritage is reflected in the Creative Therapy services we offer today using music and art to stimulate self-expression in children, young people and their parents.
For more information about Coram events email events@coram.org.uk
Useful links:
Find out more about our history